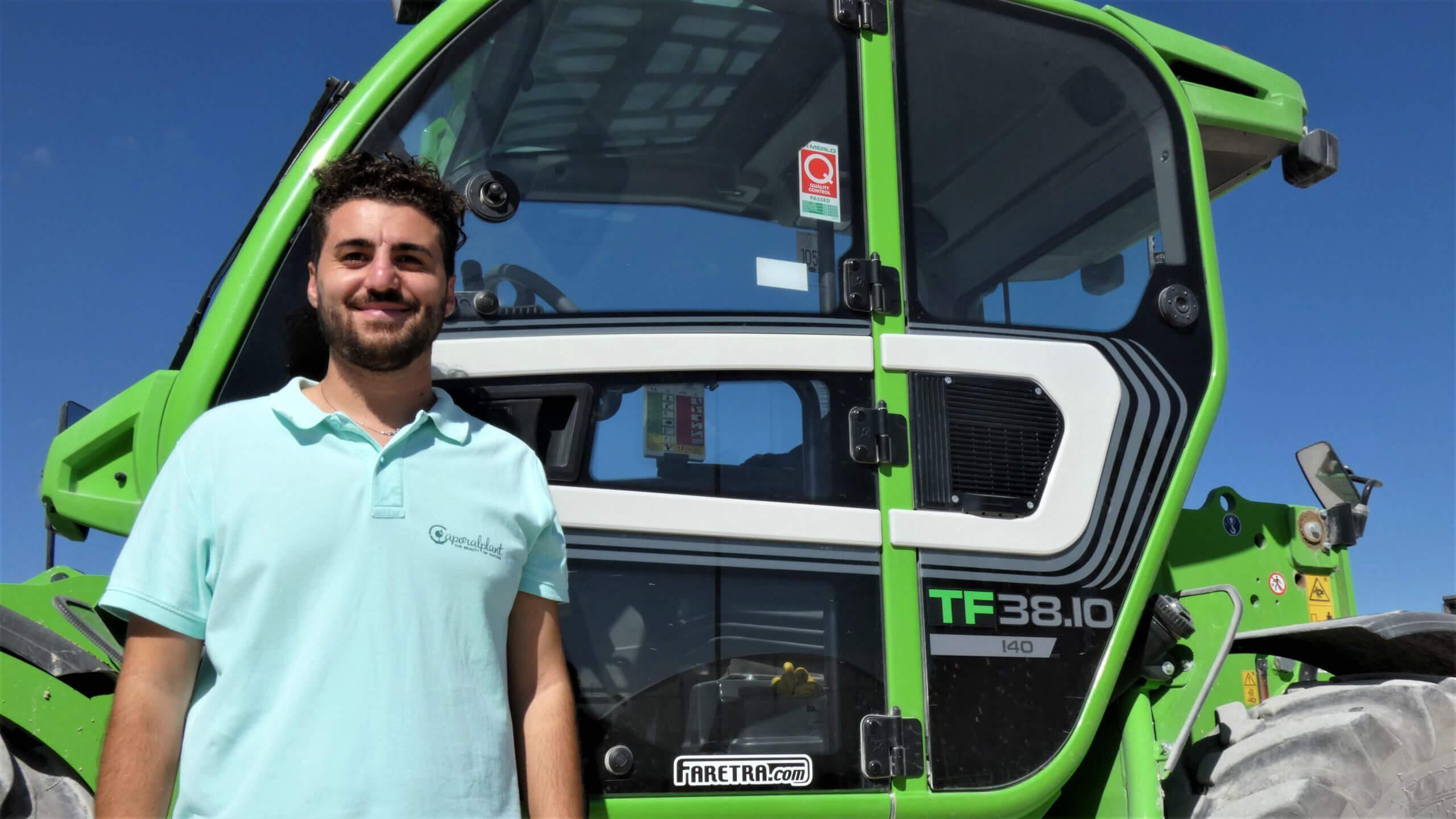 In Canosa di Puglia there is Europe's largest nursery for Mediterranean plants where the Caporale family uses 15 Merlo telehandlers for the logistics of an incredible oasis of biodiversity.
Managing the logistics of 100 hectares of nursery is no easy task. This is why the Caporale family has chosen to use fifteen Merlo telehandlers for everything to do with moving, caring for, planting and explanting all the species in the nursery.
Let's talk numbers: half a million plants produced in the greenhouse every year. Six and a half million plants produced in one year in the whole nursery. Twenty hectares of greenhouses. One hundred hectares in open field. Three hundred different species present for an exceptional Mediterranean biodiversity. Four thousand cubic metres of coco soil produced and handled each year. Four billion useful insects for biological control. Four hundred and twenty thousand litres of oxygen produced each year by the nursery. A production activity that employs thirty people in administration and between two hundred and three hundred people in the nurseries, depending on the season.
Merlo and Caporalplant, love at first sight
The association with Merlo machines was completely natural. "The need to handle a large number of plants every day," explains Giuseppe Caporale, the fourth generation in the company, "requires the use of many machines. Telehandlers are fundamental to our business. They are versatile, fast and solve many problems. We have not changed brand since we started using Merlo. The company has fifteen of them, both owned and hired."
It's a love at first sight that has blossomed for very specific reasons. "For us, certain characteristics are fundamental: speed, precision and lifting capacity," Giuseppe Caporale explains. "These are all elements that characterise Merlo telehandlers and make them appreciated by our collaborators. In fact, applications for these machines range from handling large plants, to loading pallets onto trucks, to shaping and handling soil and topsoil."
Versatility for the "town of greenery"
The versatility of telehandlers is enhanced at Caporalplant. The large nursery, located in Canosa di Puglia, has all the possible operating conditions for a machine of this type. A real city with streets, blocks and a complex internal organisation. And it is here, in the "town of greenery", that the telescopic handlers can be used for every operation. From pruning the largest species, thanks to the type-approved aerial work platforms, to loading pallets, thanks to the forks. And moving soil, thanks to skips of various sizes. Of all Merlo models, the TF38.10 is the most popular. The TF38.10 features exclusive Merlo-designed and built axles, a 150 l/min Load Sensing Flow Sharing hydraulic system and a 136 hp Deutz Stage IV engine. But above all, a boom that reaches a height of ten metres and a maximum capacity of 3,8 tonnes.
An important boom
An important boom that allows you to go very high, to sling and transport larger plants, as well as to reach horizontally. The boom is used to move within the blocks of the "town of greenery" to lay, handle and take care of every single plant. Even the smallest and most hidden plant. "The precision of the Merlo machines," explains Giuseppe Caporale, "allows us to carry out every job in the nursery with the necessary safety and peace of mind. But that's not all. We handle very delicate loads and we cannot afford to damage the plants. These telescopic handlers allow us to carry out jobs that other machines cannot." Loyalty to Merlo is optimally supported by the local dealer.
Caporalplant & Faretra, a relationship based on trust
"The relationship with Faretra is very important," claims Giuseppe Caporale, "because the dealer in Foggia guarantees the promptness we need for a structure as demanding as ours. Having a machine at a standstill is a serious problem for Caporalplant. Producing more than six and a half million plants a year, our volumes require precise and punctual logistics. And the Faretra family literally bends over backwards to support us at all times." In fact, the seasonal nature of the work requires major production peaks in spring and summer, when it is often necessary to supplement the fleet. "Faretra is able to provide us with the necessary machines," explains Giuseppe Caporale, "and to guarantee us a fast and efficient after-sales service." A fundamental aspect in cementing a relationship of trust.