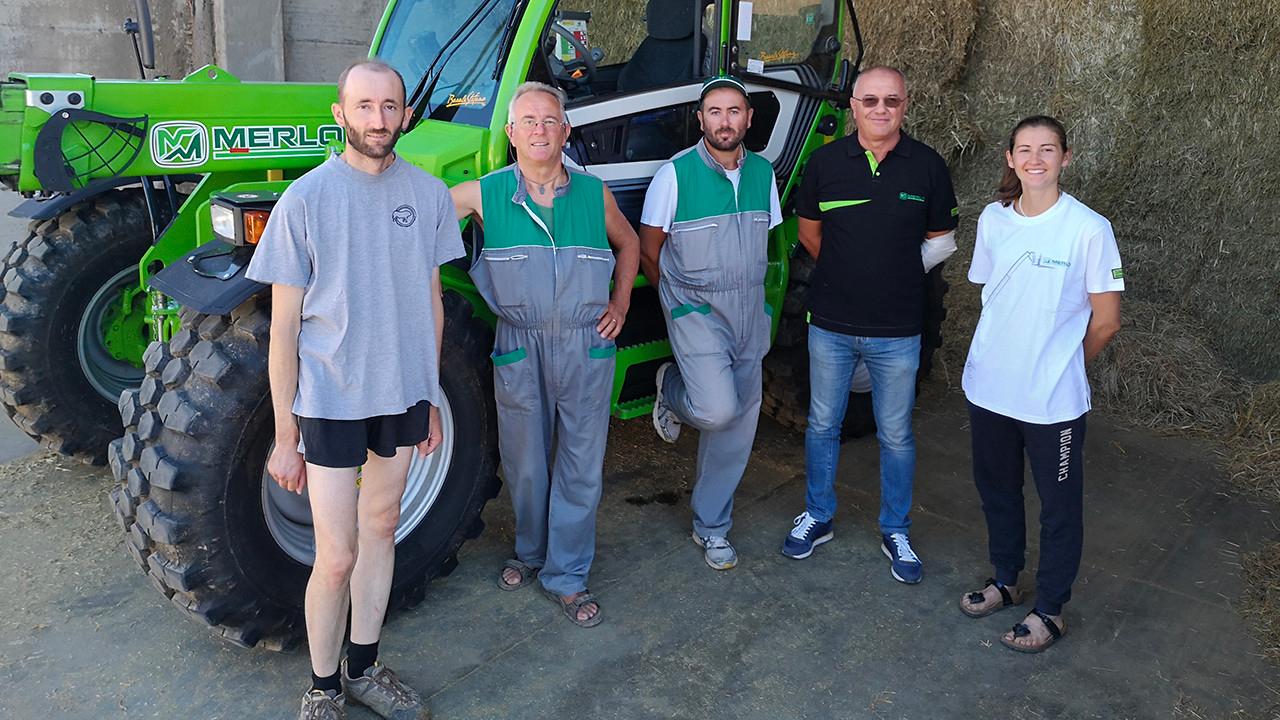 In Fossano, in the province of Cuneo, Italy, there is Roberto Delsoglio's award-winning breeding farm, where the Piedmontese breed expresses its superiority at best. A Merlo TF42.7 CS telehandler takes care of all the logistics. From haymaking to barn cleaning.
Merlo is a very popular name among breeders. The Piedmontese manufacturer has had the great merit of being able to introduce telehandlers as a fundamental tool in stable management. But that's not all. The green machines are now part of the countryside skyline all over the world. Their versatility allows them to cope with different operating conditions. It is therefore no coincidence that the Delsoglio family, farmers for several generations, decided to purchase a Merlo TF42.7CS. The presence of the telehandler has never been lacking on this Piedmontese breed farm located in Fossano, in the province of Cuneo. But the decision to switch to Merlo was based on a number of considerations.
Investing in Merlo quality
The doubling of the stalling area, both covered and uncovered, and the arrival of the new Merlo TF42.7 CS are part of this philosophy. "Animal well-being requires care and continuous work," explains Daniele, the farm's vehicle manager, "and the new telehandler is a fundamental investment." The management of all the stables, including feeding and cleaning, requires a machine that is fast, precise in operation and has a high level of comfort. These are all fundamental requirements that the Cuneo-based brand's medium-sized machine satisfies, thanks to its suspended cab, load-sensing hydraulics and maximum loading capacity at the highest attainable height. "I really appreciate the visibility and precision in manoeuvring," explains Daniele, "because I work faster and with a greater degree of safety. In addition, the lifting capacity allows me to move very heavy loads at any height. This is a major advantage which, together with the suspended cab, has considerably increased our efficiency."
Breeding excellence
Entering the courtyard of the "Società Agricola Delsoglio F.lli Società Semplice" immediately makes you understand the driving spirit of this family of breeders. The welcoming smile of Roberto, the revolutionary soul of the company, makes you understand how it is possible to breed in a sustainable way. But his two sons Daniele and Alessandro and his daughter Valeria, who are all active on the farm, are no different. Behind the scenes, his wife Maria takes care of the complex administrative business. A family group in which everyone has put their passions to good use. But they are all at the service of the Piedmontese breed, which is cared for to perfection here.
"The cattle are fed only with products that we grow ourselves," explains Alessandro Delsoglio, who personally looks after the animals on the farm, "including protein-rich pulses, fodder and minimal amounts of silage. Free-range housing has been our mantra for decades. Today we are doubling the space available to the animals without increasing their numbers. They need to be healthy and well without the use of medicines. Freedom of movement and quality food are therefore essential.
A valuable target
Roberto Delsoglio's vision has been fully passed on to his sons and daughter. "Our father," they tell us, "has always aimed at quality. A passion for the Piedmontese breed that goes beyond mere entrepreneurial activity". And this can be seen in the large collection of trophies. The Delsoglio family has been awarded dozens of times at the "Fiera del bue grasso di Carrù" (Carrù Fatty Ox Fair), the main competition for this breed. "Ox breeding is one of our pride and joy," explains Alessandro, "and it expresses our ability to invest and put ourselves to the test. It is a complex activity that allows us to stand out and convey our philosophy as breeders and farmers.
The ox requires time, care and commitment. It's a challenge that our father taught us to take up with courage. A choice that corresponds to just as many commercial choices. The Delsoglio family has broken away from large-scale distribution. Over time they have built up a client base of quality restaurants and butchers' shops throughout Italy. "A greater commitment", explains Roberto, "which allows us to overcome the difficult times caused by Covid-19. Restaurants have had a very strong downturn but butchers have had an increase in demand. Working for top quality does not allow you to have higher margins but to stay on the market in the right way."
Merlo UK dealer network expansion continues.
Merlo UK continues to expand their UK network of agricultural and construction dealers.
The month of September has seen the announcement of 4 new dealers with 2 in construction and 2 in agriculture.
BTE Plant Sales Ltd are one of the UK's largest independent construction dealers and will now exclusively offer the Merlo CE range out of their 3 depots located in Leicestershire, Lancashire and Leeds.
BH Plant Sales are an independent construction dealer based in Carlisle. Already an established Takeuchi dealer, they will now exclusively offer the Merlo CE range across the county of Cumbria and parts of North East England.
Collings Brothers of Abbotsley are an agricultural dealer based in Cambridgeshire and Northampton. They are a successful Deutz-Fahr dealer and have previous experience with the Merlo product range. Merlo UK are very pleased to welcome Collings Brothers back into the green network.
Marst Agri Services are a service company that has specialised in the aftercare of Merlo products in Suffolk since 2017. Marst Agri Services are now recognised as an official Merlo outlet for the area and will be representing agricultural sales, service and spare parts across Suffolk and North East Essex.