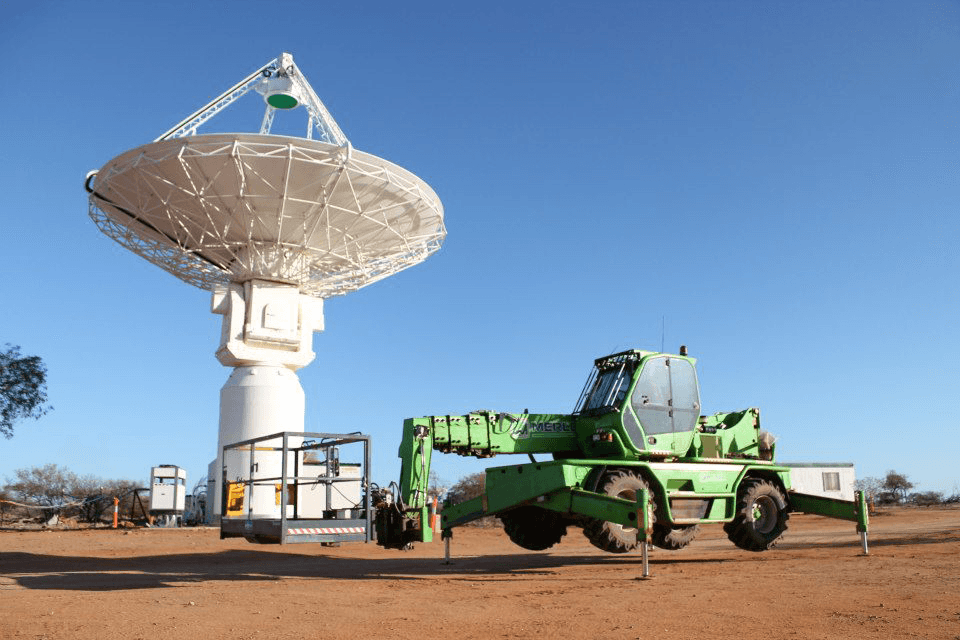 Designed to operate in all conditions, Merlo telehandlers take up any challenge, even the most extreme ones.
We have seen them operating in the extreme cold of Antarctica, but the reliability and performance guaranteed by Merlo telehandlers allow them to work successfully even in the Australian desert, where the temperature reaches 45 °C in the shade, in summer.
While arriving, we can see these high, huge white antennas standing out against the background of a red earth, reminiscent of the Martian surface, which only the Australian outback can offer.
Here, a ROTO40.25MCSS has been servicing the 36 parabolic antennas scattered around Boolardy Station in Murchison County, Western Australia – one of the most advanced radio astronomical observatories in the world – for 13 years.
Boolardy Station is home to one of the most important and innovative projects carried out by the Commonwealth Scientific and Industrial Research Organisation, more commonly known as CSIRO, the Australian government agency for scientific research, and Askap.
These antennas are part of an ambitious cosmic survey project: a radio telescope that, by interconnecting thousands of parabolic and other types of aperture antennas, will be able to produce a signal collection area of one square kilometre, hence the name Square Kilometre Array (Ska). Designed to provide answers to mysteries about the nature of the Universe, this massive international scientific project involves twenty countries, including the UK, Australia, South Africa, the Netherlands, Italy, China and New Zealand.
Despite the extreme working conditions, the ROTO40.25MCSS enables the perfect operation of the antennas, thanks to the aerial work platform, and allows the logistics and maintenance of the station itself to be managed. The reliability and durability of this machine are the result of the continuous work and research carried out within the Merlo Group, and of the valuable on-site assistance provided by Motion Machinery. In the last few days, the periodical inspection was carried out and Ollie, Motion Machinery technician, travelled for 9 hours to reach the Boolardy station and carried out the necessary operations to ensure that the Merlo rotating telehandler will be able to work for many more years.
CSIRO operates more than 50 sites in Australia, France, Chile and the USA from its headquarters in Canberra, employing around 5.500 people.
Scientific research funded by the Federal Government began in Australia 105 years ago and some of the most important scientific developments carried out by CSIRO include the invention of atomic absorption spectroscopy, the design of key components of Wi-Fi technology, the development of the first commercially successful polymer banknote, the invention of Aerogard insect repellent and the adoption of a range of biological controls in Australia, such as the introduction of myxomatosis and rabbit calicivirus for the control of rabbit populations.