Fly jib with winch
Ideale per il sollevamento, il trasporto ed il posizionamento di carichi sospesi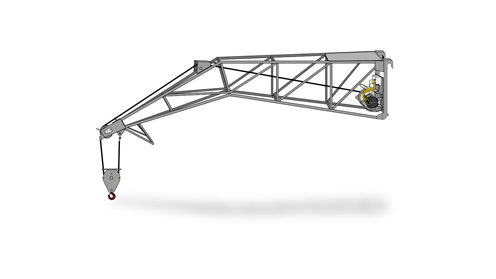 This trestle structure combines reduced weight and rigidity under load.
Its bent shape permits to reach a working height equal to the sum of the machine height plus the height of the trestle jib keeping the hook position off the machine overall dimensions.
High-resistance antispin rope complete with pulley and rope guide at the
jib end (A1300).
The winch is equipped with block valves and descent control valves as well as top and bottom limiting devices on the up and down movement of the hook.
Block with safety hook slewing over 360°.
The trestle jib is supplied complete with cradles for road transport.
Features:
Block with approved hook equipped with safety tongue, rotatable on 360 °
*Lattice structure of low weight and high rigidity
*Multiple hooks available based on the model
*Standard load limiter