Multipurpose Bucket (4 x 1)
Ideal attachment for various processing: excavation (max density 2.250 kg/m3), rehandling (max density 1.800 kg/m3), bulk handling (max density 900 kg/m3)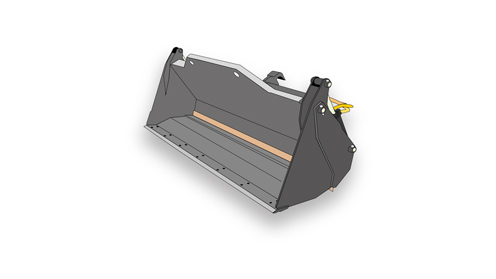 Front cutter in high strength steel.
Fixed element with interchangeable wear cutter with a double bevel.
Front cutter protection for circulation on public roads.
N. 2 jacks to operate the mobile part and load balancing valve on the mobile part closing circuit
Load capacity compliant with ISO 7546 standard.
A set of teeth and an interchangeable front wear blade can be supplied as standard on request.
Features:
Suitable for leveling, pushing, digging, moving
Mobile part for unloading on trucks and trailers
Standard Triple Tack Lock (A0810 excluded)
Equipped with frontal cut-off protection for road circulation
Multipurpose Bucket (4 x 1)
Variants